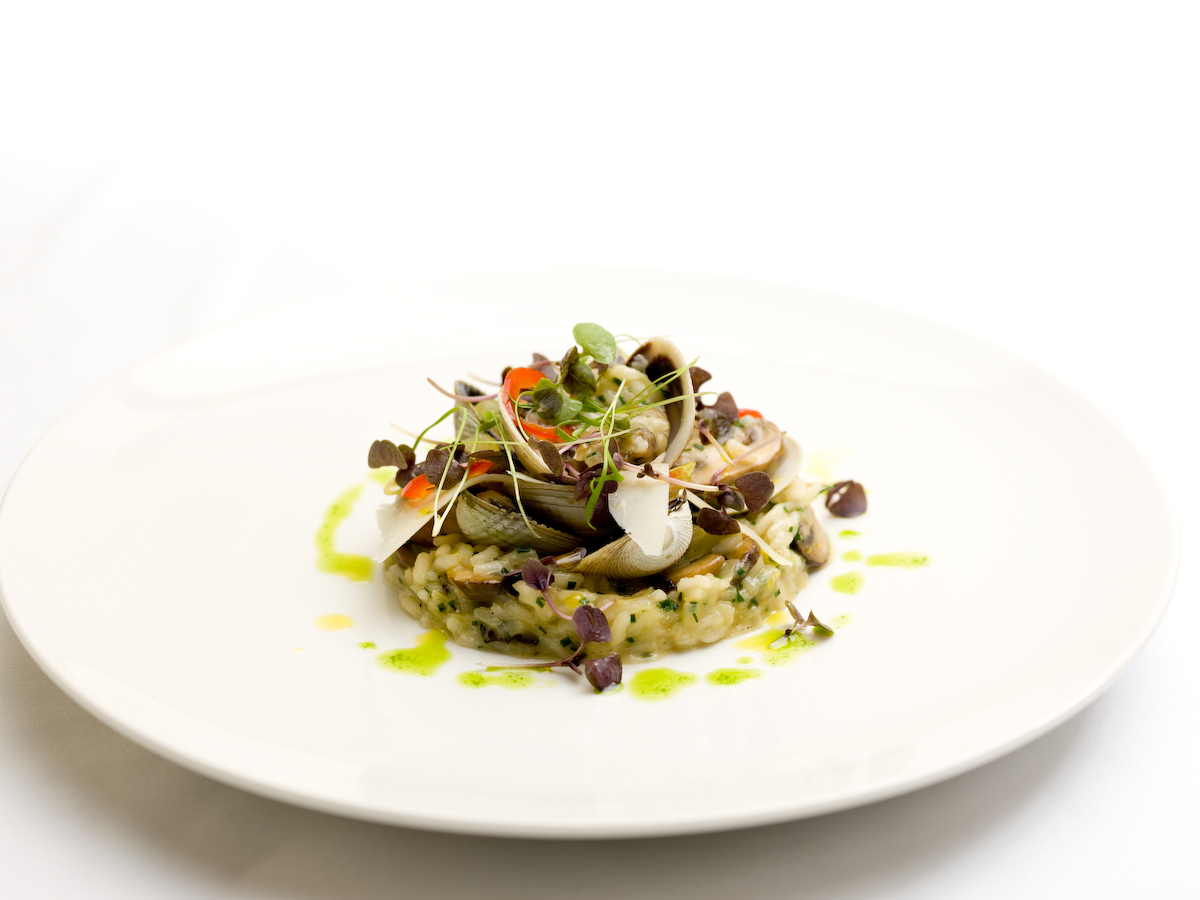 CLAM LEEK AND MUSHROOM RISOTTO
Clams are the maintain stay of this dish with mushrooms as the partner. The leeks and lemon in this risotto with mushrooms give it an appealing complimentary infusion of flavours that will "warm the cockles of your heart", not to mention stimulate the taste buds with aromatic flavours.
Cooking Time: 35 minutes
Serving Size: 4 people
Ingredients
1 kg bag Westhaven frozen New Zealand Littleneck Clams
2tbsp Olive Oil
2 Medium sized leeks, sliced
8oz Button mushrooms, chopped
3 Garlic cloves, crushed or finely chopped
1 Large onion, chopped
1 ¾ cups Arborio rice
6 cups Vegetable stock or water, seasoned with salt and celery seed
¼ cup  mixed chopped fresh chives and parsley
¾ cup of freshly grated Parmesan cheese
1 Lemon – grated zest & juice
A few tablespoons of butter
Salt and freshly cracked black pepper
Directions
Heat the stock or water to a simmer in a medium sized saucepan while you cook the other ingredients.
Heat the oil in a large saucepan and cook the garlic for about 1 minute. Add the leeks, mushrooms and salt and pepper, and cook over medium heat for about 10 minutes, or until softened and browned. Remove from the pan and set aside.
Add 2 tablespoons of butter to the pot and cook the onion in the butter for about 5 minutes. Stir in the rice and stir and fry for about 1 minute.
Add a few tablespoons of lemon juice and a ladleful of stock to the pan and cook gently, stirring occasionally to prevent the rice from sticking to the pan, until all the liquid is absorbed.
Stir in more liquid as each ladleful is absorbed. Continue this process until the risotto is thick and creamy – about 20-25 minutes. The rice should be tender, but firm to the bite.
A few minutes before the risotto is done, wash the clams in hot tap water for 1 minute. Then add the clams to the Risotto and cover for 3 minutes.
To serve add a tablespoon of butter, grated lemon zest and remaining lemon juice, the Parmesan and the fresh herbs, and sprinkle with chopped herbs. Adjust the seasonings if necessary.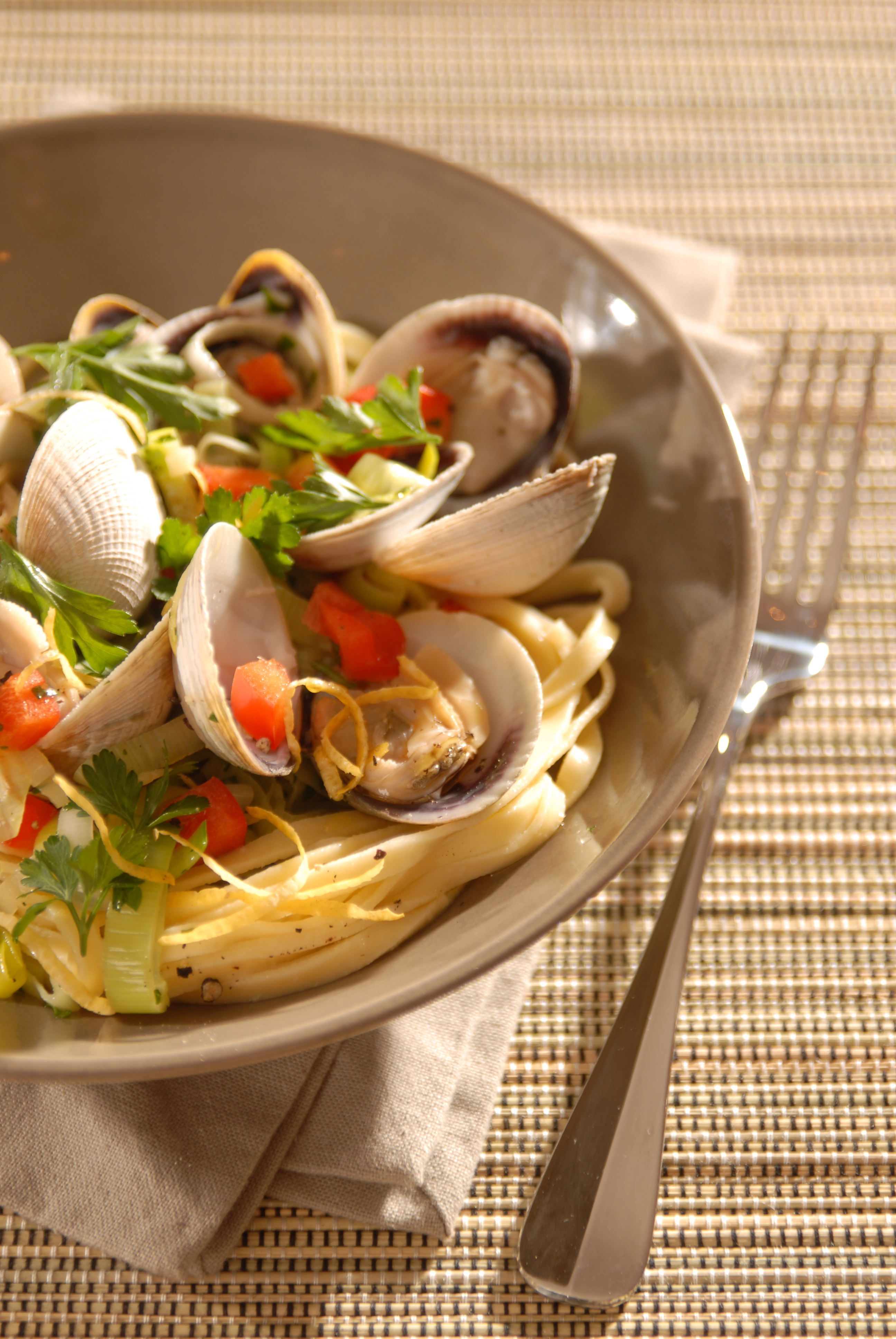 LITTLENECK CLAMS WITH, LEMON, GARLIC & CHILLI
This dish uses a classic combination of ingredients for tremendous effect. By flavouring the oil first you get a greater length of flavour. Recipes like this are best cooked for two, so if you need to double it. It is best to use two pans.
Cooking Time: 25 minutes
Serving Size: 2 people
Ingredients
1 kg bag Westhaven frozen New Zealand Littleneck Clams
¾ cup Chopped flat leaf parsley
4 Big garlic cloves, sliced
1 Hot red chilli to your taste
4 tbsp Good olive oil
200g Pasta (Fettuccine)
1 Lemon, juice
Zest of the lemon
Season to taste with salt and pepper
Directions
Place the olive oil, parsley, garlic, chilli and in a heavy pan and infuse over a low heat until sautéed but not coloured.
Meanwhile cook your pasta according to the instructions on the packet. Fresh or dried pasta can be used.
A few minutes before the pasta is done, wash the clams in hot tap water for 1 minute.
Mix the parsley, garlic and chilli into the drained pasta. Add in the clams and cover. Let stand for 3 minutes.
To serve add abundant freshly ground black pepper, pile the pasta onto a presentation plate and garnish with parsley and the zest of the lemon.